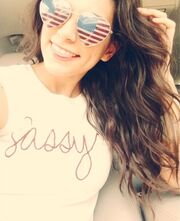 Bethany Mota
Bethany Noel Mota, also known as Macbarbie07, is an American beauty guru and Internet Celebrity
Personal Life
Edit
Bethany was born on November 7th, 1995 in Modesto, California. Her YouTube channel, Macbarbie07, has over 6 million subscribers(Last checked May 2014). She was homeschooled most of her life alongside her sister, Brittany, whom is five years older than her. Growing up, Bethany was bullied and soon began struggling with depression and anxiety. She decided to get out of bed one day and watch some YouTube videos, thus her finding the beauty community. She had over 3 million followers on instagram and also a lot of fanpages like il.bethanymota, beth.nm, beth.mcta, iobeybeth, typicalbxth, welikebeth, ilybethers, bethersfroyo, magicalmota, and a lot more!
To view the Bethany Mota gallery, click here.
Bethany has been featured in various magazines, such as Teen Vogue, 17 Magazine, Girls Life, etc.
Bethany is 5'3.25" tall ("That quarter counts!" said by Bethany on her TMI Tag Video)
Her channel, Macbarbie07, consists of makeup tutorials, Do It Yourself projects, Makeup and beauty hauls, etc.
She was the host for one series of Make Me Over, on the reality TV series AwesomenessTV.
She makes appearances on IMO, which is also a series on AwesomenessTV.
She oftens orders drinks from Starbucks like the Cotton Candy Frappuccino, Green Tea Frappes, White Chocolate Mocha, etc.
She is the aunt of her sister (Brittany)'s baby, Marin Mae Wiley.

In December 2013, she announced her own clothing line at Aeropostale.
She went on a tour (MotavaTOUR) to launch and advertise her clothing line's spring collection.
She loves food and her favorite places to eat at are Starbucks, Taco Bell, McDonalds, Burger King, Yogurtland, and Menchies.
She loves animated films and shows, such as Up, Despicable Me 1 & 2, Frozen, etc.
She likes watching teen drama shows, such as Pretty Little Liars, The Carrie Diares, Teen Wolf, etc.
She was in the Youtube rewind video, entitled "What Does 2013 Say?"
She has been in 3 Youtubers React by youtubers TheFineBros. The series consists of well known YouTubers reacting to viral or odd videos.